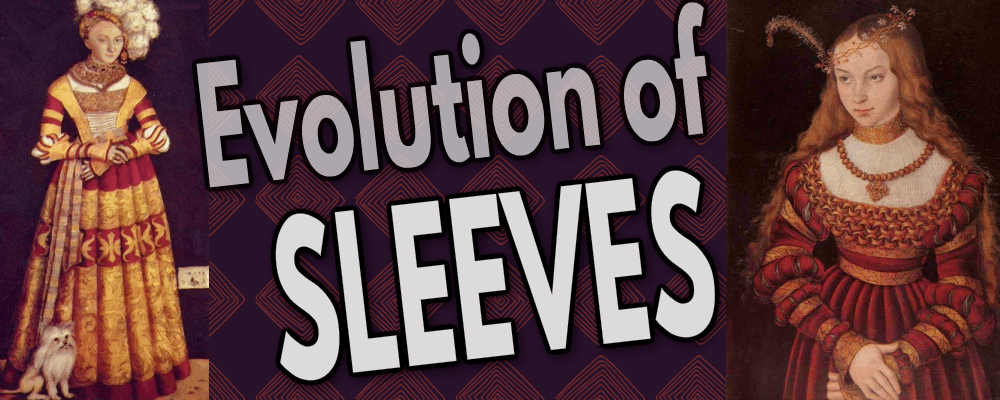 Sleeves serve such an obvious practical purpose in women's fashions that it's natural to overlook the critical role that these garments have played in the evolution of clothing over the centuries.
According to Sewport CEO Boris Hodakel, however, it's important to understand every aspect of a garment that you want to create. Learning more about the evolution of sleeves in women's clothing will prepare you to use the various trends that have shaped these apparel accessories to your advantage.
Sleeves in The Ancient World
In many of the ancient cultures that shaped Western civilization, sleeves played very minor roles.
Later Greek garments, such as the himation, covered the upper arms to some extent, and some of these garments featured rudimentary loose sleeves.
Some variants of the Roman stola had long sleeves, but most of these garments were sleeveless. Those Roman garments that did feature sleeves were usually reserved for the rich, and they were commonly made from silk. In the Americas, Aztec noblewomen wore cotton shirts with short sleeves.
Sleeves in Ancient China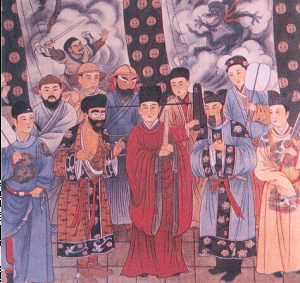 The Ancient Chinese nobility had an aversion to wool, which they associated with the meager lifestyle of the nomadic peoples of the steppes. They primarily used cotton, hemp, and silk to make their clothes, and sleeves played an important role in the garments of Ancient Chinese men and women.
Sleeves in Ancient China ranged from wide to narrow, and women commonly wore robes with tight-fitting sleeves paired with skirts. In the Han dynasty's famous "terra-cotta army," soldiers are depicted wearing hip-length jackets with long sleeves.
In the Tang dynasty, the influence of Turkish décor and fashion on Chinese culture resulted in the tightening of sleeves in both men's and women's fashions, and this dynasty saw the dawn of "sleeve dancing," which remains an important facet of Chinese culture to this day.
During the Yuan dynasty, men and women synchronized the colors of their sleeve openings and collars, and during the Ming dynasty, wide sleeves came back in style. The so-called "horseshoe sleeve" was popular among Manchu nobility during the Qing dynasty.
Sleeves in European Women's Fashion History
The history of the modern sleeve truly begins in 15th-century Europe. Prior to the Tudor period, women's fashions in Europe were relatively rudimentary. With the dawn of the Renaissance, however, European nobility gained access to a wider array of fabrics, and an artistic fervor swept the continent and wormed its way into the world of fashion as it simultaneously transformed art, architecture, and the natural sciences.
Detachable Sleeves
The most remarkable aspect of the Tudor period fashion was the advent of detachable sleeves. Women in the noble classes generally wore relatively unornamented sleeveless dresses, but they accompanied these long dresses with ornate, puffy sleeves.
Since these sleeves tied on to the arm openings of dresses, women could remove and replace sleeves without undressing entirely.
Many paintings of Tudor period women feature these sleeves, which often include gold or silver chains, elaborate cuts and layers, and intricate sewing.
Detachable sleeves remained popular in Europe for a few centuries.
Slashed Sleeves
As detachable sleeves continued to rise in popularity, commoners and nobles alike began referring to these garments as "slashed sleeves." This name arose from the intricate cuts that often ran up and down the length of these sleeves. These cuts were used to create geometric patterns and expose the ornaments and fabrics underneath the top sleeve layer.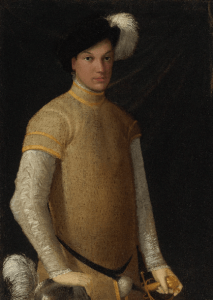 In the American colonies, however, slashed sleeves grated on Puritan sensibilities. The Puritans, who had emigrated to the New World to practice their ascetic religion in peace, sought to eliminate all forms of ornamentation, which they felt distracted people from the pursuit of God.
As Puritan culture declined, the leaders of this movement became more accepting of ornamentation, including slashed sleeves, in the garments of high-class men and women, but they expressed in no uncertain terms their deep disdain for any ornamentation in the fashions of commoners.
As the colonies became wealthier, attempts to stifle the popularity of slashed sleeves stopped altogether.
During the 17th century, slashed sleeves took a turn for the simple. Instead of featuring dozens of cuts in a single sleeve, portraits of 17th-century European nobility show sleeves with no more than two or three horizontal slashes along their length. While these sleeves remained relatively ornamental and puffy, they were nowhere near as complex as their 15th and 16th-century predecessors.
Puffed Sleeves
By the 1800s, women's fashions in Europe had changed dramatically. While women's clothing was still ornate in Europe, it had shed the clownish excesses of the Renaissance and embraced the utilitarian ideals of the Enlightenment.
This shift became readily apparent in women's sleeves. By the dawn of the 19th century, slashed sleeves were already considered to be archaic, but the puffiness of these sleeves was still in style. While they no longer stuffed their sleeves with metallic ornaments or multiple layers of gauzy silk, European women still wore long, loose sleeves.
In the early 20th century, these types of sleeves became known as "puffed sleeves." While women's sleeves briefly became tighter toward the middle of the 19th century, they surged back into popularity in the 1890s, and puffed sleeves once again became all the rage during the 1930s.
As recently as the 1980s, fashions by designers like Lacroix featured puffed sleeves, and these sleeves are still used in a variety of fashions around the world.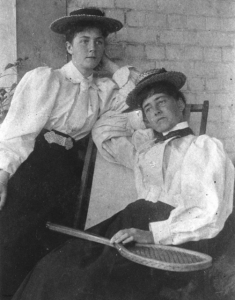 Women's Sleeve Fashion During The Victorian Era
Victorian fashion comprises a variety and wide range of fashions and trends in British culture that emerged in the United Kingdom and the British Empire throughout the Victorian era, roughly from the 1830s through the 1890s. This Victorian period saw many changes in fashion, including changes in styles, fashion technology and the methods of distribution.
Under Queen Victoria's rule, England underwent a period of technological advancement. The invention of sewing machines in the 1850s, alongside synthetic dyes, introduced major changes in fashion due to the new ability to mass-produce clothes in factories.
Clothing could now be made quicker and more cheaply.
Additionally, the technological advancement in printing machines created a boom for the fashion magazine industry, quenching the thirst of the middle-class women who could finally follow and participate in the evolving trends of high fashion and know what the upper classes wore.
By 1905, clothing was increasingly factory made and often sold in large, fixed-price department stores, spurring a new age of consumerism with the rising middle class who benefited from the industrial revolution.
Sleeves were tightly fit during the early Victorian era. It suited the tight small wasp-waist of their dress design.
The shoulder sleeve seamline was dropping to a tighter fit on the arm, which of course limited women's movements with these kinds of restrictive and super-tight sleeves.
Luckily for the women, they didn't suffer for too long; As crinolines evolved in the upper classes' dress fashion, sleeves turned into things resembling large puffy bells, which gave the dress a heavier volume.
Engageantes were tacked to the elbow-length sleeves during the time, acting as false sleeves and commonly used under the bell-shaped sleeves of day dresses. They were often made of lace and or linen were worn under the sleeves. These Engageantes were easy to remove, launder and restitch into position.
Sleeves in Modern Day Fashion
These days, fashion designers use dozens of different types of sleeves to make contemporary clothes. Here are just a few of the ways that the history of sleeves in women's clothing has resulted in modern-day sleeve styles:
1. Raglan Sleeves
Raglan sleeves are some of the most popular types of sleeves in modern fashion. These sleeves conform with the curvature of your body, and they don't leave any fabric wasted. Raglan sleeves extend from the shoulder of your shirt or dress, and they come down your arm with an inseam underneath your shoulder.
2. Bishop Sleeves
Bishop sleeves put a modern twist on the puffed sleeves of the past. While they tightly fit the upper arms, they end with puffy sections that flow loosely around the lower arms.
3. Bracelet Sleeves
These sleeves are perfect if you plan to show off your bangles on the runway. Bracelet sleeves are almost long sleeves, but they stop just short of the wrist.
4. Bell Sleeves
Bell sleeves are almost as puffy as bishop sleeves, but they stop below the wrist. They end in frilly sections that look similar to the petals of flowers, and they go great with many forms of traditional and contemporary fashions.
5. Kimono Sleeves
These sleeves take a page from Japanese history and replicate the lightweight, flowing robes that the women of Nippon wore during the Edo period. These sleeves look great on actual Kimonos, but you can also adapt them to work with other flowing silk garments.
6. Slit Sleeves
Slit sleeves borrow from the slashed sleeves of the past with a completely modern twist. Instead of featuring tons of tiny cuts, slit sleeves have one long cut on each sleeve that stretches from shoulder to wrist. When you move your arm in one of these sleeves, the fabric falls away to reveal your arm.
7. Batwing Sleeves
Batwing sleeves are similar to normal short sleeves, but they feature extra fabric in the armpits. Therefore, when you lift your arms, batwing sleeves extend and create an attractive flowing aesthetic. While these types of sleeves are featured in a variety of traditional Indian garments, they've found a new home in the modern fashion industry.
8. Off-Shoulder Sleeves
In garments with off-shoulder sleeves, collars and sleeves flow together. These sleeves don't start until they reach your upper arms, and they can consist of simple ringlets around your upper arms or full sleeves that go down over your wrists.
9. Open Sleeves
These types of sleeves leave openings between your shoulder and your sleeve. They are also known as cold shoulders, and these sleeves are among the trendiest sleeve styles in the fashion world today. Open sleeves work well with both blouses and dresses, and they vary in terms of how much of your shoulder they expose.
If you enjoyed reading this article, then please tell your friends about it. This helps us Elves get the word out, so more fellow artists can benefit! All goes hand in hand - Blessings to you the Elves shall send!  :)