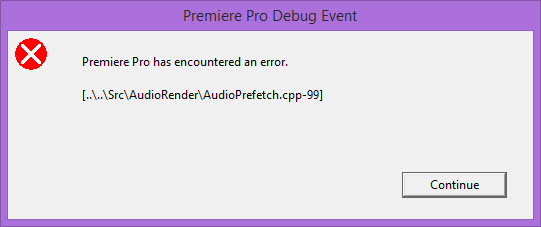 Is Premiere Pro giving you an error '….AudioPrefetch.ccp-99' when trying to record audio into your timeline?
For some reason in the middle of recording the program started giving me these error boxes.  I searched online, but none of the solutions people recommended in the Adobe forum or other forums helped.
What caused it? I don't know, but it appears that the sequence suddenly became corrupted. Check to see if you try to record at another time point in your sequence if it also gives you that same error.
The
simple solution to this Premier Pro error
that worked for me, was to either copy and paste all the audio and video tracks into a new sequence, or to record the audio in another sequence and then copy the audio back into the corrupted sequence.
TIP: Pressing the 'Continue' button in the Premiere Pro Debug Event error message is not very helpful, you may end up pressing it 247 times (as some users said they counted) without it closing. Best way to deal with that error message popup is to switch windows back to the Premiere Pro program, save your project, crash the program and then re-open it.
Hope this helps you!
If you enjoyed reading this article, then please tell your friends about it. This helps us Elves get the word out, so more fellow artists can benefit! All goes hand in hand - Blessings to you the Elves shall send!  :)