Are you having issues of no sound, internet connection issues and no Wifi on Windows Bootcamp on your Apple Mac?
This article is about how I resolved the issue of no sound and no internet connection issue after installing Windows 8.1 on my iMac. It worked for me with Windows 8.1 on Bootcamp, but it may also work for Windows 10 internet issues since it is likely the same cause. I hope it helps you too!
Read this article if you are trying to use Windows 8 / Windows 8.1 on Bootcamp on a mac or macbook and are encountering the following issues:
Windows 8 Bootcamp no Wifi
Windows Bootcamp NO Internet Connections
Bootcamp Windows did not detect any networking hardware
Windows Bootcamp 'unable to connect to internet' error
Bootcamp Windows 'no internet connections available' error
Bootcamp Windows no sound audio driver problem
Here's what happened… I followed all of Apple's Bootcamp installation tutorials, downloaded the Bootcamp support drivers just as I was instructed to and installed my licensed copy of Windows 8.1 on my mac.
I did everything right according to the manual, happily rushed over to Windows Bootcamp side of the mac and found…
I could not connect to the Internet, it gave me the error 'no connections available' 'unable to connect' and I couldn't see any of my Internet connections even though I have Wifi. I tried using an internet cable, even that did not work!
On top of that I found I couldn't hear any sound at all! (Click the volume icon and drag up and down, you should hear a sound if you see the green sound lines moving up and down).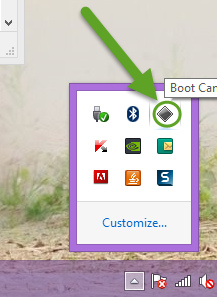 If you don't have any audio sound, nor the Bootcamp icon in the bottom tray (see image on the left) and NO wifi networks detected, you've got a driver problem.
I spend 2 days all day long searching forums for answers.
Many, many people had the same exact issue and none of them found a solution.
Some people recommended in one thread to download older versions of Broadcom drivers and go through loops to install the older ones over the newer ones that are pre-installed since they claimed the ones Apple installed were 'defective'.  I tried that but that too did not work.
So I called Microsoft and like all the other users had complained in the forums, they would not help me saying it was an Apple issue.
I called Apple who told me it was a Microsoft issue and they wouldn't help me either.
One Apple support guy told me to reinstall Windows, a second Apple support guy told me to re-download the Bootcamp support drivers. It didn't make sense. I'd downloaded the most recent ones before installing Windows on Bootcamp so why download them again? I only needed them while installing Windows not afterwards right? Wrong.
No one told me, but I found you need to install the Apple Bootcamp drivers on the Windows side as well!
Using Apple's Bootcamp Assistant to download the support drivers was a pain in the butt, since it would often freeze and the status bar would not move for HOURS and HOURS.
So I googled and found a download page on Apple's site where I got the latest Bootcamp drivers download.
It took me 3 hours to download them with a 3mbs Internet speed.
How to Solve the Windows Bootcamp No Internet Connection Issue in 3 Easy Steps:
Step 1. Download the Bootcamp support drivers (Bootcamp Support Software).
http://support.apple.com/downloads/#macoscomponents
Download the latest Bootcamp support drivers to a Windows NTSF formatted external drive. (It's only about 1GB in size so you don't need a huge drive. Use Apple's Disk Utility to erase and reformat a drive if necessary).
Step 2. Restart your mac while holding alt. The moment you hit restart you must hold alt or it won't work. When you get to the black screen which lets you select which Operating system you want, double click on the Windows disk to start up as Windows.
Step 3. Last of all, all you need to do, really ALL you need to do, is to open an explorer window, navigate to your external drive, extract your zip archive, go into the Bootcamp folder, which will be something like 'Bootcamp5.1.56.40', then into the next folder which is called 'Bootcamp' and there is an exe called setup.exe
Run that exe, allow it to make changes, install all the drivers and wait for it to finish installing.

When it's done installing, you should be able to hear audio and have the ability to select a network from your automatically detected Wifi networks, enter your password and get connected to the internet!
Yaay!
I hope this tutorial helps you! =)
Camille
If you enjoyed reading this article, then please tell your friends about it. This helps us Elves get the word out, so more fellow artists can benefit! All goes hand in hand - Blessings to you the Elves shall send!  :)