On this page, you'll learn all about Sansar and how to convert Marvelous Designer clothes to Sansar clothes.
You'll discover how to fit Marvelous Designer clothes to Sansar avatars, how to texture and render Marvelous Designer clothes for Sansar, how to sell clothes on Sansar, how to avoid and troubleshooting common simulation and conversion issues from Marvelous Designer to Sansar.
You'll also learn about the current issues with converting Marvelous Designer garments to Sansar clothes, what not to do, and what to do to avoid common issues.
What is Sansar and why turn your Marvelous Designer clothes into Sansar clothes?
According to Forbes, Sansar is the world's leading social VR platform created by LindenLab.
In a nutshell, people customize an avatar, dress it, and use it to visit virtual events and live virtual lives.
LindenLab's previous successful creation was Second Life (a virtual game world, also known as SL or 2nd Life).
Launched in 2003, SecondLife has millions of users, a $500 million dollar user-to-user economy, and nearly 2-billion user creations.
Around $250 million dollars were made by SecondLife sellers from selling avatar related accessories such as hair and clothing.
Check out these inspiring and Amazing Second Life Creator Success Stories by creators who earn a full-time living off selling assets on SecondLife.
The Sansar marketplace is a wonderful opportunity for Marvelous Designer users to earn extra income by selling clothes to Sansar users.
Creating clothing for Second Life was time-consuming and difficult for most Marvelous Designer users.
The new Marvelous Designer to Sansar bridge enables Marvelous users to quickly create simple clothing for sale in the Sansar marketplace.
After creating clothes in Marvelous Designer on a Sansar avatar, simply import your Marvelous Designer clothing into Sansar.
The clothing gets auto-rigged by Sansar for their Sansar avatar. No manual rigging needed!
Sansar dynamic clothing simulation:
Sansar users who buy Marvelous Designer clothes instead of normal rigged/conforming clothes, are able to dynamically simulate the clothes in Sansar's Lookbook and make small adjustments such as roll up sleeves or pant legs, lift or lower collars, arrange wrinkles, layer clothes etc.
Note:
While Sansar users can adjust the clothes on their avatar in their Lookbook, the moment they exit the lookbook, the clothes become conforming like all other clothes.
Sansar currently does not support dynamic clothing simulations in-game.
What kind of Marvelous clothes can you create for Sansar?
The best clothes to make for Sansar using the Marvelous Designer to Sansar bridge are simple skirts, pants, shirts, jackets without any fine wrinkles, tiny frills, lace, layers, ribbons, or fine gathers.
Currently, Sansar auto rigging feature has it's limitations and issues.
Very complex Marvelous Designer clothes do not fair too well in the Sansar simulation.
Sansar automatically rigs sleeves, skirts, and pants to the avatar's body. Whatever part of the clothing is closest to the body gets rigged to it.
While Sansar's auto-rigging works fine for tight clothing, it doesn't always work too well for loose clothes or clothes with a lot of fabric.
Garments which have very wide flared sleeves, flared pants legs, or skirts with a lot of fabric, tend to be distorted when auto-rigged by Sansar.
When the avatar moves a leg, the fabric gets stretched in queer ways along with any texture applied to it.
Fabric which touches sometimes gets auto-rigged together. For example in images 1 and 3 below, the bottom of the pants legs touched and therefore got rigged "stuck" together so when one leg moves, both pants bottoms get stretched together in strange ways.
In image 2, you can see an issue which occurred when there was a lot of loose fabric on the sleeves. The sleeves get all torn up in Sansar and penetrate into the dress (I guess Sansar isn't sure if the sleeves are part of the dress and should be rigged to the body or should be rigged to the arms).
The clothing which works best for Sansar are clothes which aren't too loose and fit closely to the avatar's body.
When making Sansar clothes in Marvelous Designer, make sure things such as loose sleeves don't touch other parts of your garment.
Examples of Marvelous Designer to Sansar conversion issues for clothes with a lot of loose fabric:
Examples of good Marvelous Designer to Sansar conversions:
Sansar's system greatly reduces the quality of the Marvelous Designer clothes to make them game ready.
All the tiny, fine wrinkles, gathers, frills made in Marvelous Designer at Particle Distance 5 or 8 are reduced greatly (often to such an extent they no longer look nice or are no longer visible).
Clothes which were created at Particle Distance 5 in Marvelous Designer end up looking like they were created at Particle Distance 10 or 15 once imported into Sansar.
Sansar's system does not like too many layers.
Simple things like pockets and rolled back hoods are fine.
Decor which is firmly sewn down is usually OK too, however, knots and knotted belts tend to open up.
Simple ribbons which are sewn down well are OK in Sansar simulation, however, ribbons or knots which are tied and folded with layers can cause problems.
My recommendation?
Create simple clothes in Marvelous Designer at Particle Distance 10 or 15.
If they look good in Marvelous at that particle distance, they will look good in Sansar.
Avoid making clothes with many layers, with piping or other tiny, fine detail as that will be lost in Sansar.
Modelling your clothes in Marvelous Designer at PD 5 is useless. It takes longer to upload and convert the garment to a Sansar garment and all the PD 5 detail gets lost anyway in the conversion.
Once a clothing item is listed in the Sansar marketplace, you can no longer change its texture.
An easy way to increase your chances of being discovered in the Sansar marketplace and sell many clothing items, is to simply change the texture on your garment and then list it for sale again in the Sansar marketplace as a new clothing item.
However, for more complex clothing, if you know how to use other 3D programs to do retopology, texturing, and rigging etc., I recommend you don't use the bridge.
Instead, texture and rig the clothes as you would for games/DAZ 3D/ Poser/Reallusion etc.
Export your Marvelous Designer high poly clothes to your other 3D programs.
Sculpt extra details if you want (add fake pockets, decor, stitches etc).
Texture your clothes nicely in Substance Painter or whatever texturing program you use.
Create low-poly clothes for Sansar with normal maps which have all the fine wrinkles and detail from the Marvelous clothes.
Rig your clothes to the Sansar avatars and then sell the game-ready clothes in their marketplace.
Creating and rigging clothes manually is the best way to get beautiful, professional looking clothes.
You control the mesh density and add more polys where you need more detail.
You control the final look of the clothes since you create the normal maps and add the wrinkles and the details where you want them.
This process, of course, takes longer than using the bridge but you get the best results.
Using the MD to Sansar bridge you can create simple clothes fast, but you don't have much control over the final look of the clothes (plus there are still some bugs with the bridge), and you won't get hyper-realistic, detailed, really awesome looking clothes.
Marvelous Designer to Sansar Tutorials
Troubleshooting: Converting Marvelous Designer Clothes to Sansar Clothes
Should you sell complete outfits or separate clothing items in the Sansar marketplace?
While you can import and create for sale full outfits into Sansar, I recommend creating and importing tops and bottoms (pants, skirts) separately unless the outfit is something special which must be as one piece.
By creating separate tops and bottoms, you can list many more clothing items in the Sansar marketplace (and have better chances of being discovered) and Sansar users can mix and match clothing as they wish.
Maybe someone likes your pants but not your shirt or they like the pattern on your shirt but not the one on the pants.
Offering separate clothing items gives users more control over their desired look.
"Can I make layered clothing in Sansar?"
The answer is yes, sort of, and no.
I recommend you not to make Marvelous Designer clothes which have too many layers.
While Sansar currently has an issue with simulating layered Marvelous Designer clothes (clothes with layers often have penetration issues of fabric poking through top layers and eating itself up, tangling up), users can layer multiple Sansar garments in Sansar.
Layering 2 Marvelous Designer converted clothes is (most of the time) possible.
For example, I made 2 separate Sansar garments from Marvelous Designer garments; a shirt and a pair of pants.
Depending on which garment you first apply to your Sansar avatar in Sansar, the other item will either be layered over it or under it.
When simulating Marvelous Designer garments in Sansar, you can tug at the layers and arrange them. Small adjustments such as tucking some of the shirt fabric into the pants, pulling the pants up over the shirt is easy.
However, big adjustments such as pulling out a shirt from beneath the pants after Sansar layered it under the pants is tricky. The way to do this, is to un-apply the clothes and then reapply them in the order you want them layered.
Note: Layering a Marvelous Designer garment with a Sansar garment is tricky!
Rigged Sansar clothes are conforming, not dynamic like Marvelous Designer clothes, and cannot be dynamically adjusted in simulation.
Sansar clothes have a certain distance from the avatar's skin and you can't tug them over other clothes or stuff other clothing layers under them.
For example I tried to use a dynamic Marvelous Designer shirt with Sansar pants. The shirt can go over the pants, but there's no way I can get it to fit under the pants.
I tried making the bottom of the shirt skin-tight to the avatar, applying elastic etc. but it still didn't want to stay under the pants.
See image below: (Left is a shorter MD shirt, right is the longer MD shirt coming out of the Sansar rigged pants).
An Important thing to keep in mind when making clothes for Sansar:
If you want users to be able to use your clothes with other conforming or dynamic Sansar clothes, design your clothes in a way that they'll fit with other clothes.
Make shirts which are meant to either go over pants or are short and reach up to the pant's belt.
Marvelous Designer pants are much easier to use with Sansar clothes since you can layer them over Sansar clothes and pull at them to adjust them.
Marvelous Designer to Sansar clothing limitations:
You cannot create clothes with double-sided fabrics in Sansar using the MD to Sansar bridge.
In Marvelous Designer, you can create clothes which have a different texture or color on the inner side of the fabric (this is visible and looks nice if you roll up sleeves, have an open hood, open a collar etc.).
If you import Marvelous Designer clothes with double sided fabrics into Sansar, the inner side of the clothing will get the same texture and color applied as the outer side has.
You cannot import props or additional avatars.
So if you modeled your clothes in Marvelous and added a special belt buckle OBJ, OBJs of special custom buttons, an OBJ of shoulder pads, a 3D model of a special hook, ribbon, zipper etc. none of that will be imported into Sansar.
To add zipper pullers, use the new zipper feature in Marvelous Designer 7.
You cannot import Marvelous Designer 7 stitches.
If you want a stitch design on your clothes, you need to create it the "old fashioned way" using image overlays instead of the Marvelous Designer 7 stitch tool.
See my tutorial how to make stitches for Marvelous Designer clothes.
Marvelous clothes come into Sansar with all the textures and image overlays so the image overlay stitches will be imported as well, however, the quality of textures and image overlays will get greatly reduced by Sansar.
Sansar reduces the quality of textures, blurring them and sometimes also distorts/stretches the textures depending on how the clothing gets auto-rigged.
For Sansar clothes, there's not much point to add very fine details such as woven logos with realistic thread detail, small image overlays etc.
Even the default Marvelous Designer zipper texture and my own zipper textures get greatly reduced in quality by Sansar.
Fabric knit and cotton textures end up looking rather flat and blurred. Floral textures, batiks and designs look OK.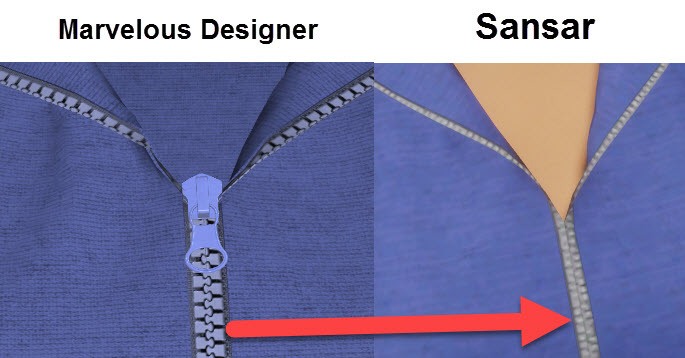 If your skirt gets auto-rigged in a strange manner such as shown above, go back into Marvelous, try readjusting the skirt's drape, maybe moving the wrinkles apart or reducing the amount of fabric and fabric folds.
You cannot import fabric thickness into Sansar. Marvelous patterns loose all thickness when Sansar converts them to Sansar clothes.
If you enjoyed reading this article, then please tell your friends about it. This helps us Elves get the word out, so more fellow artists can benefit! All goes hand in hand - Blessings to you the Elves shall send!  :)