Today is Marvelous Monday and here's a Marvelous Designer question I received from an artist regarding layers. The artist was having an issue to make the shirt tucked into the pants.
He simulated the shirt over the skin-tight pants, then froze the pants and giving the pants the layer number 1, tried to force the shirt to go underneath them. Here is a screenshot of the issue he encountered.
Why was he having this issue?
Well, his pants are skin-tight and were simulated against the avatar's body without any other layer beneath them. Then, when he froze the pants and tried to shove the shirt underneath them, there was no space for the shirt so it started bursting out in parts from beneath his pants.
It is always easier to simulate things on top of other layers than to first have them underneath and then try to get them out. So instead of trying to get pants out when shirt is over them, start with simulating shirt and then add the pants over the shirt.
First simulate the shirt against the avatar's body, then freeze the shirt, give the pants layer number 1 and when you simulate again the pants will go over the shirt. (If your shirt has a layer number already then you will need to give your pants a layer number that is higher than the shirt's layer number).
If you initially had the shirt over the pants and then changed your mind, you can always pause Simulation, grab hold of the pants patterns in the 3D Garment window, draw them out away from the avatar's body a bit so they are over the shirt, simulate again and they should fall nicely into place on top of the shirt just like in my examples below.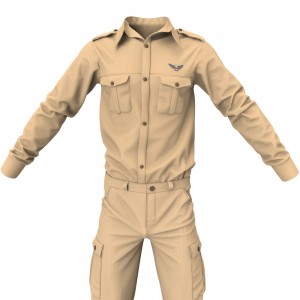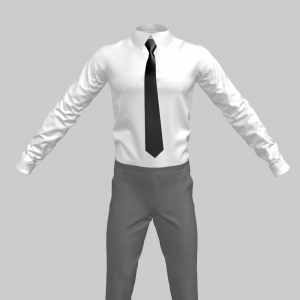 Sometimes there may still be some small cloth penetration issues. If you encounter any problems of cloth coming out through top layer, pause the simulation, rearrange the pants pattern pieces around avatar and then simulate again.
Once you have the pants over the shirt, I recommend you raise the pants waistband cloth friction setting.
Friction makes the cloth 'stick' more to the underlying cloth and prevents it from slipping down. I usually raise the pants waistband friction real high to keep the pants from sliding down the shirt.
I hope this Marvelous Designer how to article helps you.
Are you a Marvelous Designer beginner? Check out my in-depth Marvelous Designer beginners course which will teach you what every button and function in MD does, how to best use every function and what not to do.
Students who take my Marvelous Designer training learn my entire process of creating a great variety of Marvelous Designer clothes and solving any issues that arise.
I take you step-by-step from total beginner level to mastering Marvelous Designer at an advanced level.
Check it out, you'll be glad you did! ;)
If you enjoyed reading this article, then please tell your friends about it. This helps us Elves get the word out, so more fellow artists can benefit! All goes hand in hand - Blessings to you the Elves shall send!  :)