Free Marvelous Designer lace texture with opacity map!
Download our seamless lace fabric texture and use it for any Marvelous Designer clothes or other 3D clothes.
You can use this texture for personal and commercial Marvelous Designer clothing projects.
Our lace texture looks exactly like real lace materials since it was made from an image of a lace fabric and not machine-generated. Experiment scaling this texture up and down for different fabric weave effects.
It can look quite interesting on clothes at a very low scale.
You can use our seamless lace texture as an opacity map or as both a diffuse map and an opacity map.
So even though our Marvelous Designer lace texture is black, if you want to create for instance a skirt with pink lace fabric, all you need to do is use the texture as an opacity map (to create the transparent lace effect) over a pink diffuse color or texture.
You can either apply this seamless lace texture to your clothes in Marvelous Designer or apply it later when rendering the 3D clothes out in another program.
Don't know how to import and use this tiling lace texture in Marvelous Designer? Watch our free Marvelous Designer texturing tutorial here. Go here for a tutorial on how to render lace textures in Octane standalone.
(We also have more tutorials in our free tutorial section on how to change the colors of seamless fabric textures in Photoshop and how to use them in other programs.)
Click here to download the free Marvelous lace texture for your 3D clothes.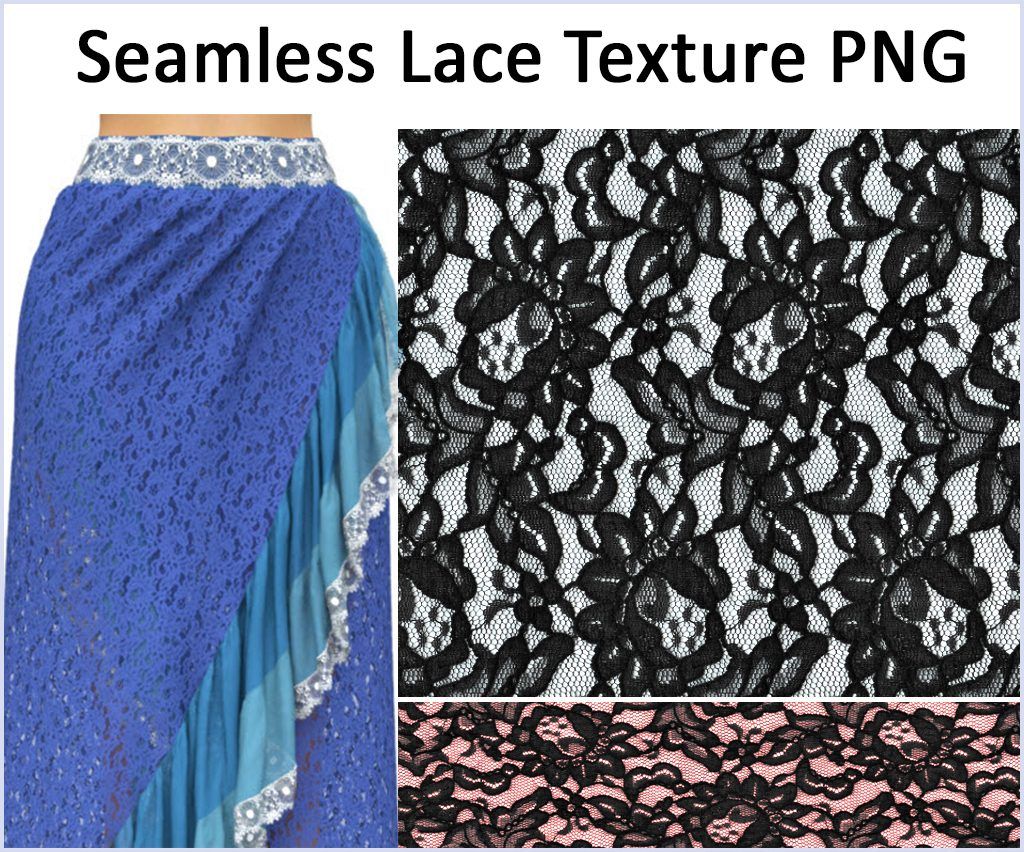 Below are instructions how to change the color and opacity of this black lace texture in Marvelous Designer (and an example of turning the black lace texture into a red lace texture).
To change this texture's color in Marvelous, first click the "Desaturate" button in the Fabric Editor and then select the color you want the texture to be. That's it! You can play around with the desaturation levels and also change overall fabric opacity, specularity settings, and auto-generate a normal map if you want.
If you don't desaturate the texture but just add a color over it, it will tint it slightly (give it a reddish glow in the semi-transparent and light areas).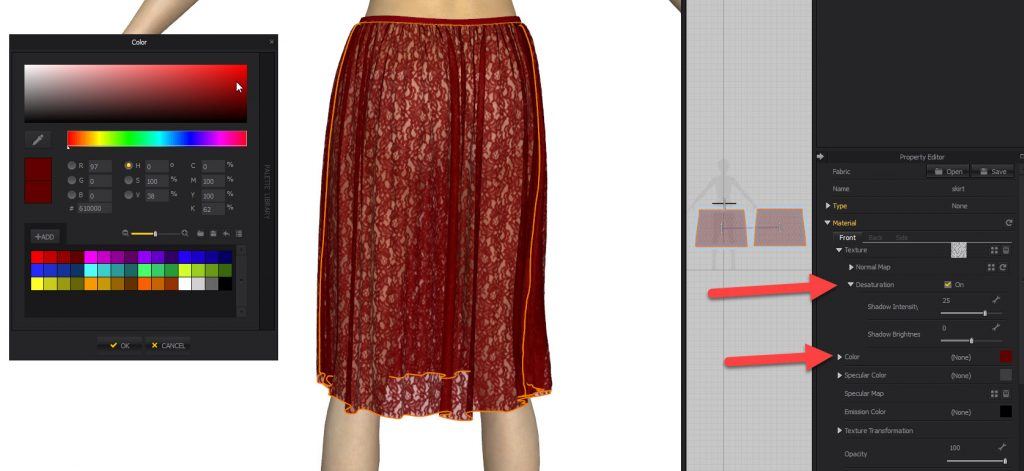 Here's an example of the seamless lace texture used as an opacity map along with seamless batik textures scaled down really, really small for a glittery effect: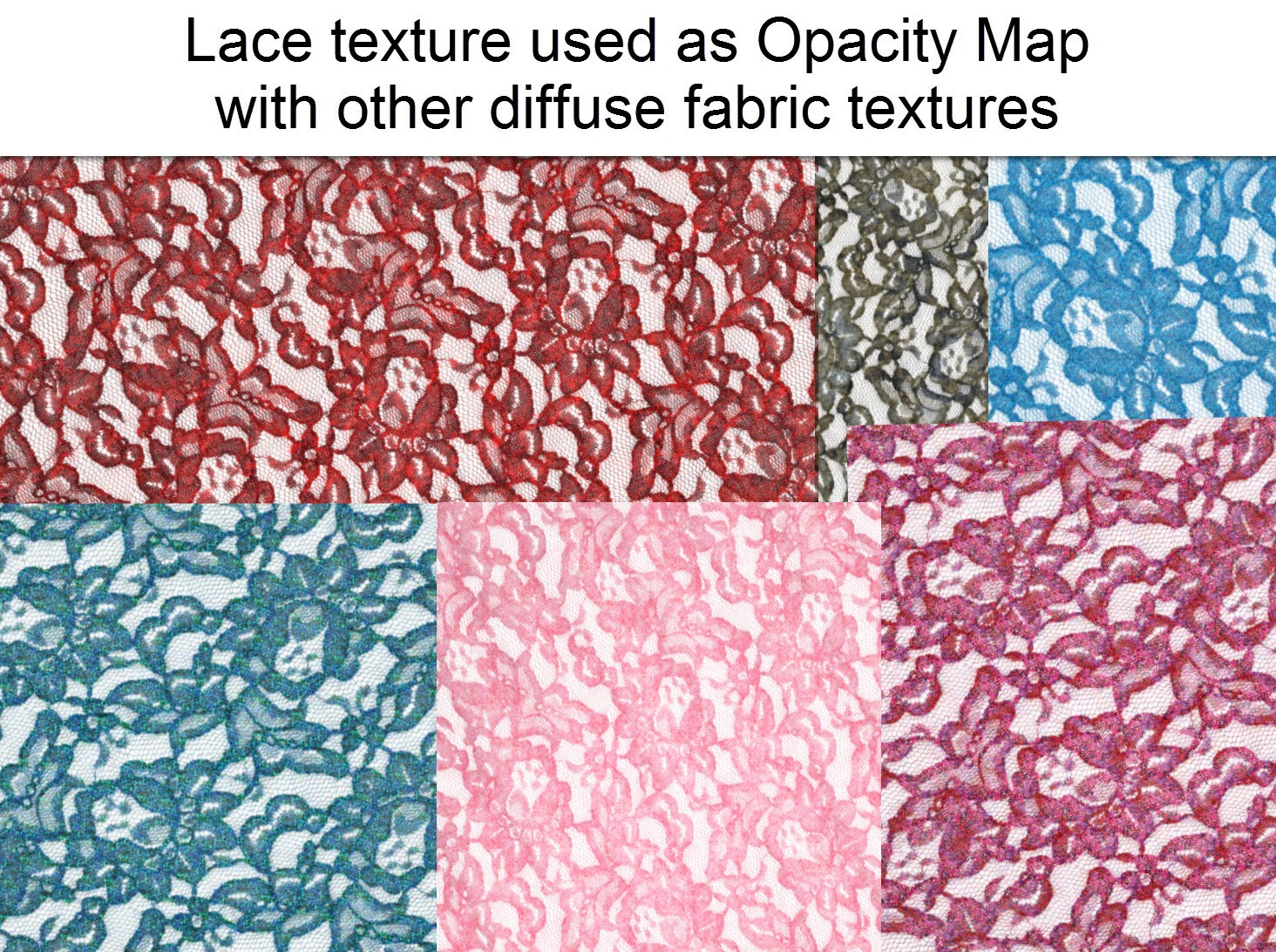 If you enjoyed reading this article, then please tell your friends about it. This helps us Elves get the word out, so more fellow artists can benefit! All goes hand in hand - Blessings to you the Elves shall send!  :)