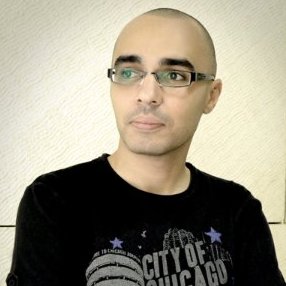 Eyad Hussein, Character Technical Director at Buck, shares renders of dynamic 3D clothes he created in Marvelous Designer and his opinion of our Marvelous Designer course.
Eyad always had passion for graphics and computer animation since a young age. He likes to design characters, write stories and photography. He received his Bachelor's Degree in Fine Arts, major Graphic Design from Yarmouk University, Irbid – Jordan in 2008, then received a certificate in 3D Character Development from AnimSchool, Utah – USA in 2013 online.
He started his career at very young age; when he was around 18!
Eyad worked as Graphic Designer in small studios for about two years, then worked at Front Row (the lead magazines publishing house in Jordan) for almost five years as Photo Editor. After that he decided to change his career path and do the things that he really liked best, so he moved into the animation industry, and has been working as a professional Character Technical Director for almost three years now.
Eyad recently started using Marvelous Designer software to create dynamic clothes for his 3D characters and animations.
After getting our Marvelous Designer video training, within a very short period of time he already started making clothes.
Here's what Eyad Hussein thinks of our Marvelous Designer course and workshops:
"I believe that Camille tutorials are the most extensive Marvelous Designer tutorials ever made, she covers everything in the application literally, and her teaching way is extremely simple. I would recommend her tutorials for all 3D character artists, they are the best online!"
To see his work and to contact him, visit his website Eyad.tv
Eyad's LinkedIn: https://www.linkedin.com/in/eyad-hussein-91668858
If you enjoyed reading this article, then please tell your friends about it. This helps us Elves get the word out, so more fellow artists can benefit! All goes hand in hand - Blessings to you the Elves shall send!  :)