In this short Marvelous Designer 5 to ZBrush workflow tutorial we'll show you how to best export Marvelous Designer clothing for use in ZBrush. (Click images to enlarge them).
The first thing you need to do before exporting your Marvelous Designer clothes, is to convert the tri mesh into a quad mesh.
Here below you can see the difference between the same dress, once exported from Marvelous Designer as a tri mesh and once as a quad mesh. Both dresses were subdivided in ZBrush 4 times. As you can see, the quad mesh is much smoother.
Here's how to convert your Marvelous Designer clothes from tris into quads:
Select all your pattern pieces by doing ctrl A. Your clothes will turn yellow.
Right click on any part of your clothes in the 3D garment window and select 'Quadrangulate' from the popup menu.
Next, to export the 3D clothing from Marvelous Designer, go to the 'File' Menu and click 'Export – OBJ'.
It is very important to set the correct export settings in the export dialog box.
If you want to export your Marvelous garment with the avatar, then select the avatar, otherwise leave it unchecked.
For using the Marvelous Designer clothes in ZBrush, the most important thing is to select 'Weld'.
Unfortunately, when 'Weld' is selected, you cannot export your clothes with thickness. You'll have to add any thickness you need in ZBrush.
Below is an example of what happens if you export your Marvelous Designer garments with thickness and 'Unweld' turned on.
As you can see, the mesh is breaking up along all the seams where the patterns were sewn together.
Asides from that, a Marvelous Designer clothing model exported with thickness needs to be subdivided 2x more at least in order to get it to look smooth. The below example was subdivided 6 times and still does not look as smooth as the 'thin' 'weld' mesh export.
What does 'Unified UV Coordinates' option do? Here below are some images to help explain it.
I usually leave this option turned off, since I like to apply fabric textures onto clothes in Marvelous Designer and to scale the textures, rotate them etc. Some textures like zipper textures I need to scale down quite a lot, wheres some other textures I scale up.
When exporting clothes with 'Unified UV Coordinates' turned on, all the textures get rotated in the same direction and scaled to the same exact size. With the 'Unified UV Coordinates' unchecked, the textures stay just like you rotated and scaled them with the Texture Transform tool in Marvelous Designer.
See below some examples of the effect of 'Unified UV Coordinates' checked and un-checked when importing Marvelous Designer clothes to render in Keyshot and applying the same one material (with texture mapping set to UV Coordinates) onto the entire model. Another example below that is when applying a texture to the clothing model in ZBrush using the NoiseMaker plugin (also set to UV).
The option to 'Select All Graphics' will export your Marvelous Designer clothes with any 2D graphic textures that you applied, such as stitches, trims, image or text overlays. If you are just exporting your Marvelous garment to render in Keyshot/ Octane etc., then you definitely want to 'Select All Graphics'. However, when exporting your 3D clothing to ZBrush, you want to uncheck 'Select All Graphics'.
See below what happens if you export your Marvelous clothing into ZBrush with 'Select All Graphics' turned on.
Here's how to import the Marvelous Designer clothes into Zbrush. Simply click the 'Import' button in the Tool menu and load in your exported OBJ.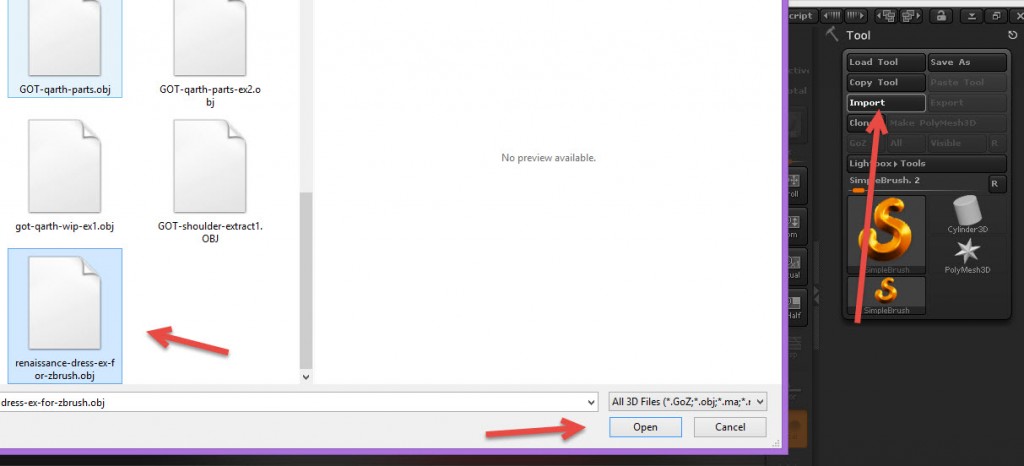 When you import your Marvelous Designer garment it may look rather queer, sort of broken up like parts are missing.
Don't worry, that is only an appearance!
Under 'Display Properties' turn on 'Double' and you will see all the parts of your clothing.
(Tip: Before exporting a clothing model from Marvelous Designer, make sure that all the normals are facing the right way. If any pattern is turned 'inside out', with the darker side on the outside instead of the lighter side, simply right click on that pattern in the 3D garment window and select 'Flip Normals' from the popup).
To easily hide/ show / edit individual parts of this 3D clothing mesh, we need to polygroup it. As you can see in the image above in Polyframe mode there are no poly groups.
Since the Marvelous Designer clothes are made from pattern pieces it is very easy to turn those patterns into polygroups. Simply head over to the 'Polygroups' menu and click 'Auto Groups with UV'.
If you created your Marvelous Designer clothes (like shirts) with symmetric patterns you will have separate polygroups for each side of the shirt. If you'd rather have one polygroup for the front of the shirt and one for the back, then you need to first symmetric merge the patterns in Marvelous Designer before exporting the clothing mesh to ZBrush.
To symmetric merge two symmetric patterns, right click on the middle line and select 'symmetric merge'.
(Note, if you had any piping on your shirt, it will vanish once you symmetric merge it and you will have to redo it).
Last of all, in order to create a smooth mesh from the Marvelous Designer clothing mesh, you need to subdivide the geometry several times.
After that, you can do what you want with the 3D clothing model, retropologize the mesh, paint on it, texture it, add deco, 3D parts etc.,
We hope this Marvelous Designer 5 to ZBrush workflow tutorial helps you!
Feel free to share any tips you have on working with Marvelous Designer clothes in the comments below.
If you enjoyed reading this article, then please tell your friends about it. This helps us Elves get the word out, so more fellow artists can benefit! All goes hand in hand - Blessings to you the Elves shall send!  :)