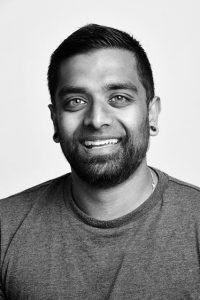 Sanj Surati is an award-winning, multi-disciplined Innovation Consultant with over twenty years of experience within the music, fashion and luxury industries.
He has worked with some of the biggest brands in the world to create exciting virtual & AR experiences.
Since 2011, he has been working in the virtual fashion space and delivered AR installations for Burberry, Charlotte Tilbury, Gucci and more.
Tiger Heart is his new home where his specialty is working with technology to develop new live digital experiences for the purpose of product launches, retail experiences and experiential events.
His current clients include BMW, Gucci, and Alphabet.
Augmented Reality Mirrors
The AR Magic Mirror is an awesome, fast way for customers to virtually try on a product (such as makeup).
Instead of spending a lot of time trying on different makeup products, consumers can use the Magic Mirror to swipe through tens of different looks within seconds.
The Magic Mirror Sanj worked on for Charlotte Tilbury increased the brand's sales by 400% and won Gold at the Google Retail Tech Awards.
The mirror scans the face of whoever sits in front of it, applies virtual objects over their mirror image, and interactively tracks and follows them as they move. (Even if someone changes their expression or pose, the makeup follows them.)
When did you start developing AR Magic Mirrors?
I've been designing and building those since 2012 and have a vast knowledge of how humans behave using this technology.
A lot of the software we use is custom built from scratch using C++
Tell us about the Magic Mirror you made for Charlotte Tilbury.
It is mainly used for the customer that does not have time to sit down and get made up by their in-house makeup artists.
You virtually try on ten looks, pick one and then purchase it at the till.
Again, a useful solution to the customer experience as opposed to a gimmick.
What are the main challenges to create Magic Mirrors?
The main challenges developing it was to make sure that the customers felt that the solution added value to their day and that the tracking software worked.
The right lighting is a huge factor in ensuring that the experience works. You are working with infrared light so you need to control the environment of where the system will be placed. It will not just work anywhere.
The realism is created by working in partnership with Charlotte and her top makeup artists at development stage to ensure the makeup looks realistic.
How long does it take to develop a Magic Mirror?
The first magic mirror I worked on took about eight months to design, develop, test and install.
Every AR Magic Mirror I have worked on has been a challenge.
The main reasons have been due to managing client expectations and making sure the tracking software works in a particular environment.
Every customer we have worked with thinks that the solution is an easy task or that it is a simple plug and play solution. It is not.
Are consumers happy to use a Magic Mirror instead of trying on real makeup?
Some are and some are not for a million different reasons. No two customers are the same.
One thing I would say is that virtual try is not the same as the real thing.
Technology will never take over from the current format of how people experience retail.
It will change it and give the customer more options to engage with a brand. But it will never take over.
Do you enjoy creating the Magic Mirrors?
I love making AR Magic Mirrors. Especially, when you see a customer use it and smile.
It is a fun solution that helps businesses get closer to their customer.
How did Gucci use the Magic Mirror you worked on?
The Gucci installation was an Augmented Reality Magic Mirror for Alessandro Michelle who was using it to promote his collection that he designed for the Warner Bros film Suicide Squad.
Holograms in the Burberry Beijing Fashion Show
In 2011, for the Burberry Beijing Grand Opening Fashion Show, 3D holograms of virtual models appeared on the runway alongside real models.
The holographic show in Beijing was watched live by over 120 million people.
How did you get to work on this project?
At the time, I was Head of Music at Musion. I was introduced to Musa Tariq who was the Head of Music at Burberry at the time by a friend called Richard Kirstein. I presented the tech to Musa and Christopher Bailey and the rest is history.
I didn't know how Christopher was at the time and this one meeting led me into the fashion world and now I design, develop and produce technology for the luxury and fashion worlds.
How did viewers react to this mixed reality fashion show?
The launch increased Burberry's market value during the recessive period where all other luxury brands market value dipped.
Burberry were the only luxury brand increasing in market share and value over the recession because of their courage to use new and emerging technologies to engage with their customers.
What was the main challenge you needed to overcome for this project?
The main challenge to overcome when working on this particular installation was working with Mandarin speaking AV suppliers in Beijing not just from a language perspective but also from a social perspective. It was an eye opening and very interesting moment in my professional career.
I learned a lot from working with the Chinese when delivering huge holographic installations in China. They are amazing people who work very differently to how the Western world.
What cool projects are you currently working on?
I am currently working on a Virtual Solution that works via Virtual Reality at the moment using 360 films, the aim is to create a short experience where people can experience fashion in an immersive but subtle way.
The goal of the project that we are currently working on using virtual reality is to help our client engage with their customers in a new way. The brand we are working with has a rich narrative and they want to express that through virtual reality. It is not a virtual shopping experience.
What do you think of 3D scanning clothes for virtual fashion catalogs?
3D scans of fashion at present is really bad. They do not capture the essence of the garment.
3D visualisation actually does a better job when working with video and photography.
What do you think of Tommy Hilfinger's decision to switch to 100% digital design?
I think Tommy Hilfiger's decision to switch to 100% Digital Design is a great story. There are lots of brands already doing this. They just haven't released a press release about it.
Tiger Heart have built digital fashion design solutions for a few high profile fashion brands.
Will the fashion industry suffer?
Who knows. Remember, fashion is the most important thing in the fashion industry. If digital design is right for them and their fashion excels, then good for them. Digital Design has to benefit the customer ultimately.
I do think there is a future for virtual try-on. However, that future is not going to take over the current format of user experience. Instead it will add a new dimension to the experience.
Technology never takes over, it just adds to the ecosystem. People still read books, maybe not as much as before the Digital revolution but people still read books.
How did you get started?
I fell into the industry by accident. I saw that humans were changing their habits in line with the digital revolution 23 years ago. I realised then that it would benefit me as a professional to dive into understanding how humans reacted to new technology and see if my findings added value to big consumer focused businesses.
Yes, it was challenging at first but all of that changed for me when record sales started to plummet due to the illegal download behaviour of consumers during the late nineties and early naughties.
My initial clients who were music industry types came to me for solutions. That led me to working with tech and Music IP and then that led me to working in holographics and then onto the 2Pac hologram which, changed my life.
What were your main responsibilities for the 2Pac Hologram project?
I was the chief designer and producer of the 2Pac Holographic system at Coachella. There were many teams all over the world working on the project. My job was to make sure the 2Pac content worked on the system as the content creation company has never created content for a Pepper's Ghost system before.
To learn more about Sanj's work, visit his company's website TigerHeartLondon.com