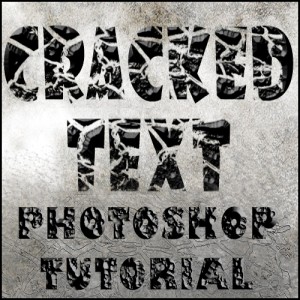 Step 1. Download our free crack brushes or use your own brushes.
Step 2. Select your brush tool and load in the cracked brushes (if you want to keep existing brushes then use the 'load brushes', if you want to just have the new brushes you're loading in to work with, then use 'replace brushes').
Step 3. Create your text layer.
Step 4. Click the mask icon to apply a mask onto your text layer.
Step 5. Select one of the crack brushes and click on the text layer's mask.
On a mask black areas become transparent, and white areas stay visible.
Make sure your color is set to the default, white or black (keyboard shortcut D to reset the colors).
Step 6. You can experiment with different opacity settings, for the crack brushes I find opacity at 100% works best.
Take a black brush and click on the text layer. Depending on your brush's size and the direction you rotate the brush you will have a different effect. You can always switch colors (keyboard shortcut X) and paint back some areas you want to see with a white brush.
Step 7. To make the text look more 3D, double click the text layer and apply a bevel and emboss effect.
Here's an example of the same cracked text effect made with a smaller brush and a bigger brush.
Play with the size of the bevel, depth of the bevel, the bevel settings and lighting direction.
See here some more examples of how different bevel and light settings change the look of the cracked text.
In the first example I used Chisel Soft as the bevel type, in the second example Chisel Hard and in the third image I moved the lighting direction.
We hope this cracked text effect Photoshop tutorial helps you!
If you enjoyed reading this article, then please tell your friends about it. This helps us Elves get the word out, so more fellow artists can benefit! All goes hand in hand - Blessings to you the Elves shall send!  :)