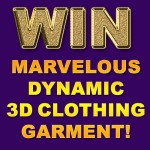 Join our free to enter contest for a chance to WIN a dynamic 3D Marvelous Designer garment file of your choice!
See below the list of our dynamic 3D clothing the 3 winners can chose a garment from.
You can use our dynamic 3D clothes for your DAZ models, Poser models, any other 3D models, animation movies, games and films. Marvelous Designer clothes can easily be fitted to any 3D model.
All of these dynamic clothes come with textures, Marvelous Designer clothing patterns and fabric presets.
Note: The Marvelous Designer garments are only compatible with Marvelous Designer 5. However, you can use the patterns and presets in earlier versions of MD.
Contest Information:
Contest starts on: Friday, November 13th 2015.
Contest ends on: Tuesday, December 15th 2015.
(NOTE: this contest is over and the winners have been announced here.)
To participate in this contest all you need to do is:
Our garments will be available as of January in our shop with the following price as listed below.
These are the Marvelous Designer garments the 3 winners can choose from:
If you enjoyed reading this article, then please tell your friends about it. This helps us Elves get the word out, so more fellow artists can benefit! All goes hand in hand - Blessings to you the Elves shall send!  :)