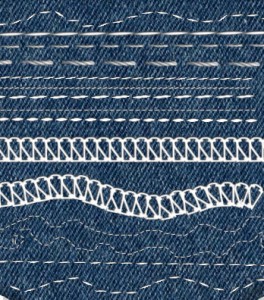 Download our free sewing stitch brushes set for Photoshop. (Scroll down the page for the freebie). Our Photoshop stitches brush set also comes with Photoshop stitch styles you can add onto your stitches!
Use our free Photoshop stitches brushes to texture your 3D clothes, DAZ clothes/ Poser clothes or Marvelous Designer clothing, Sansar clothes for VR worlds and games, or for your 2D artwork.
These PS free stitch brushes are dynamic stitch brushes, meaning you can create any design of stitches you need, along any path, or by using your mouse or pen.
See the PS stitch brushes video tutorial further below.
How to Use the Free Sewing Stitches Brush Set?
Select the stitch brush you want to use, and set the size and color.
Draw out a path in Photoshop with the pen tool
Go to the 'Paths' tab and right click on the path. Select 'Stroke Path', click OK and you shall see the stitches running along your path.
Now you can apply a stitch style you want to the stitches to make them look more 3D or leave them as is.
Photoshop Stitch Brushes TIPS for Marvelous Designer users

:
If you want to overlay stitches onto Marvelous Designer clothes, without the stitches being part of the clothing texture (in case you still want to experiment with different fabric textures and colors in Marvelous Designer), simply export the stitches as a PNG file with a transparent background and then overlay them in Marvelous Designer onto your clothes.
If you export a white stitches texture from Photoshop, then you can easily change their color in Marvelous Designer (or your render engine) to better fit the color of your 3D clothing.
Example of a jeans pocket with a few of our stitch brushes and stitch styles:
Feel free to download these free jeans denim pockets to use as a template or for your 3D clothes.
If you want to have nice seamless denim textures, similar to the one you see in these pockets samples, download our free denim jeans textures.
Video tutorial: How to import stitches of thread brushes for use in Photoshop CS6:
If you enjoyed reading this article, then please tell your friends about it. This helps us Elves get the word out, so more fellow artists can benefit! All goes hand in hand - Blessings to you the Elves shall send!  :)