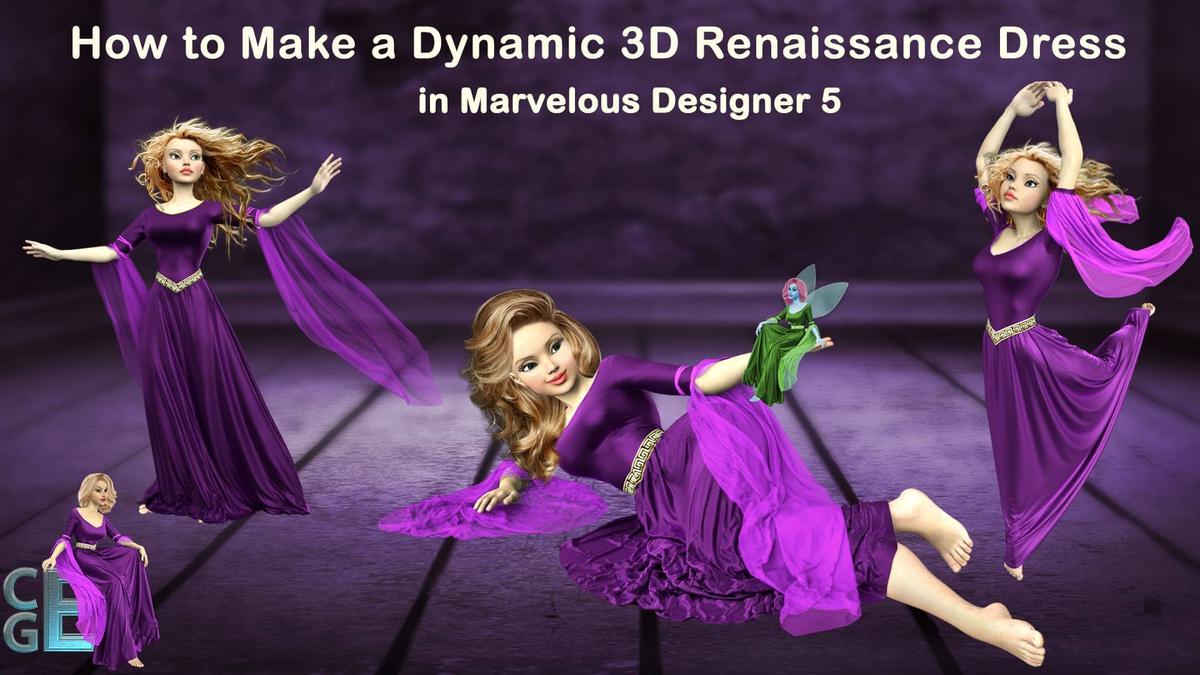 You'll be glad to hear, here is a Free Marvelous Designer workshop in which you'll learn how to create this lovely dynamic 3D Renaissance dress!
This Marvelous Designer dress tutorial was featured in 3D World magazine.
To the left are some images of the dynamic 3D dress that you'll learn how to create in Marvelous Designer 5.
Once you know how to create the dress, you can change the colors, change the design, make the dress longer or shorter, create more gathered fabric or less gathered fabric, make the sleeves shorter or longer, add fancy decorations on the dress etc.
I'll be using Marvelous Designer 5 for this tutorial, but even if you have an earlier version of Marvelous Designer or a later version you can still follow along since the principals of how to create this dress remain the same.
In this free Marvelous Designer tutorial series, you'll see the entire workflow from beginning to end of how I created this Renaissance dress.
Even though this dress workshop is not intended for complete beginners, the step-by-step video tutorials are easy for anyone to follow along.
However, if you are a complete beginner, I recommend you get our Marvelous Designer beginners course to understand how to use every function and feature in MD.
I'll start with a quick introduction to Marvelous Designer and the interface, then jump right in and begin teaching you how to create a skin-tight bodice, then how to create the long gathered skirt, the regular tight sleeves, hanging sleeves and a decorative waist band.
You'll see how to cut the patterns, sew the patterns, and you'll also discover how to create Piping and how to use the 2D Graphics Tool and the Texture Transform Tool to texture the waistband and sleeves.
In case you don't know what Marvelous Designer is, in short it's a cutting-edge cloth simulation software in which you can create dynamic clothes that hang realistically and adjust to any pose. Artists use Marvelous Designer to create Sansar/iClone/DAZ/Poser clothing for sale in various marketplaces as well as to create SIMS clothing.
I hope you enjoy this free Marvelous Designer dress tutorial!
Want to Master Marvelous Designer and be able to create any clothes you need?
Get
Marvelous Designer online training here.
We hope you enjoyed this free Marvelous Designer workshop by Expert trainer Camille Kleinman.
Sharing is Caring :) Please share it with your friends.
You can get her Marvelous Designer course to properly learn Marvelous Designer software and the principal of making all types of clothes in Marvelous Designer.
If you enjoyed reading this article, then please tell your friends about it. This helps us Elves get the word out, so more fellow artists can benefit! All goes hand in hand - Blessings to you the Elves shall send!  :)