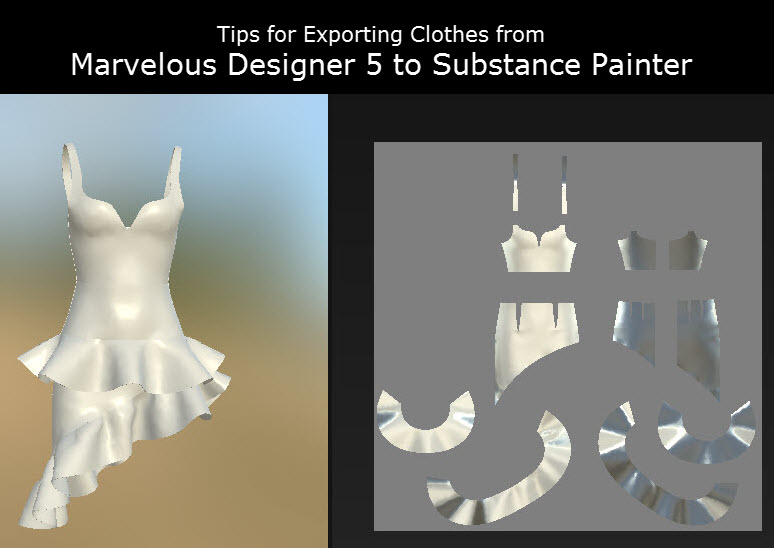 Here some tips on exporting 3D clothes from Marvelous Designer to Substance Painter.
(In case you don't know what Substance Painter is, it's an awesome software for texturing 3D models. And it's really fun and useful for texturing Marvelous Designer clothes.
You can texture your clothes to some extent in Marvelous Designer, by loading in seamless textures and adding 2D graphics, textures of stitches etc, but it is much easier to do texturing in Substance Painter instead. In Substance Painter you can paint directly onto your clothes or onto the maps, easily add stitches, fabric grain, decorative trims, paint designs onto your clothes, and create old worn looking clothes with dirt and spots etc etc.)
It's pretty simple to get Marvelous Designer clothes into Substance Painter, there are just two things you need to look out for.
How to get UV maps for your Marvelous Designer Garments?
The Marvelous Designer clothing patterns you create are your UVs.
In Marvelous Designer 5 there is a UV tool to help you visualize your UV map. See the screenshot below. Clicking the eye icon (1) will hide or show your UV map and clicking the UV tool (2) will enable you to scale the light blue border around your UV map. To change the position of patterns in your UV map, use the Transform Pattern tool (3) and click on the clothing patterns and move them around.
Be careful that you don't rotate the clothing patterns or scale them as that will update your Garment in the 3D Garment window (see right image).
In Marvelous Designer if you assign different fabrics to different parts of your clothes (to different pattern pieces) each of these fabric groups will come into Substance Painter as its own material map.
So for instance on this default Marvelous dress, there are two fabrics one for the top and one for the skirt.
If I export it like that and bring it into Substance Painter here's what the maps look like. (1st image).
So if you want to separate different parts of your garment you can do that by applying different materials in MD.
Or apply the same material to all the clothing patterns in MD to have them all on one map in Substance Painter. (2nd image)
To export the clothing model from Marvelous Designer, go to File – Export – OBJ.
The most important option to select in the export OBJ dialog box is the 'Unified UV Coordinates'.

If you don't check 'Unified UV Coordinates' your UV map in Substance Painter will look a mess with overlapping patterns like this (see bottom left image).
With UV Coordinates checked when exporting it will retain like the UV layout that you made in Marvelous Designer (see bottom right image).
And that's it for now, I hope these exporting from Marvelous Designer to Substance Painter tips helps you!
Till next time,
Camille.
If you enjoyed reading this article, then please tell your friends about it. This helps us Elves get the word out, so more fellow artists can benefit! All goes hand in hand - Blessings to you the Elves shall send!  :)