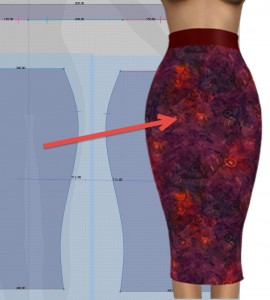 Download this free Marvelous Designer clothing pattern to create a tube skirt for your 3D models. Marvelous Designer patterns are extremely useful, you can use them either as a reference how clothes are made or trace them to recreate 3d dynamic clothes. Plus, you can use Marvelous Designer clothes patterns in any version of the software, versus Marvelous Designer garments which can only be used in the version they were created in.
Scroll down below the video to get your free to download Marvelous Designer skirt pattern.
Each of our Marvelous Designer clothing patterns (especially those for more complex garments) come with several HD full-screen images. You'll get screenshots of different parts of the 3d clothing item, close-ups to see how the sewing connects as well as screenshots of settings such as fold angles, elastic, thickness, particle distance etc.
Want to SAVE LOTS of time and quickly create dynamic 3D clothes?
Check out our
Huge Library of Marvelous Designer clothing patterns & physical property presets.
Here below is a quick tutorial how to quickly recreate 3D clothing from one of our Marvelous Designer patterns for clothes. You'll learn how to import the pattern into Marvelous Designer cloth simulation software, how to scale the Marvelous pattern to the right size and how to trace the MD pattern.
You'll also discover a trick to make a pattern layer see-through so you can accurately trace the Marvelous Designer clothes pattern below it.
Lastly, you'll see how to sew the pattern pieces together and apply textures and custom Physical Property Presets.
We hope this free Marvelous Designer clothing pattern and tutorial helps you!
If you enjoyed reading this article, then please tell your friends about it. This helps us Elves get the word out, so more fellow artists can benefit! All goes hand in hand - Blessings to you the Elves shall send!  :)